The Infamous Claw Clip Ponytail - Get A Chic Look in 5 Seconds!
Ponytails are the solution to every dress-up disaster. If you are running late, make a ponytail, if you are attending a wedding, you can make a ponytail, the ponytail is perfect for every occasion. It is a go-to hairstyle that can be easily transformed into multiple hairstyles at once.
A fluffy, voluminous, and sleek ponytail is the fashion these days. If you are a ponytail lover then this is the perfect guide for you. This guide tells you about the ponytail extension styles, and much more. These days it is difficult to get a perfect style every time, sometimes your ponytail is very low, sometimes the hair is not voluminous, sometimes the hair is very frizzy, so how to achieve the perfect look every time?
The answer to your queries is the simple claw clip ponytail extension. There are curly ponytail extensions, long ponytail extensions, wavy ponytail extensions, short ponytail extensions, straight ponytail extensions, thick ponytail extensions, low ponytail extensions, and many more. This guide provides a step-by-step ponytail extension styles tutorial through which you will learn how to put in ponytail extensions.
This is one of the best human hair ponytail extensions and it is a natural hair ponytail extension. This claw clip ponytail provides an amazing look that looks as if you have real hair, these real hair ponytail extensions are very easy to wear and you can rock any hairstyle with these. Well, storytime! So, here is my discovery for Juva Buns ponytail extensions.
I was on my way to a real trip outside the continent but unfortunately, I got the chewing gum attached to my hair, all thanks to my niece. Well, for the meetings and events abroad I majorly had suits and wanted to make high ponytails and other types of ponytails with those dresses. But, now since my hair was all messed up due to the bubblegum, and I couldn't get it out of my hair…I visited my hairdresser.
They told me that since it is in the middle part and wouldn't come off; they will have to cut my hair short in a bob cut. Well, I could slay the look at parties with my cool dresses and a bob cut but for the meeting, I cannot leave my hair open, you can say it was the decorum.
Anyways, I checked all the websites for real-looking hair ponytail extensions, I visited various marketplaces but I did not have any good synthetic ponytail extensions. Then, I called my hairdresser who is my friend too, and asked if he can help? Well, he recommended these claw clip ponytail extensions from Juvabun's, and upon his word;
I ordered two ponytail hair extensions, one in my own black color and the other with highlights. When the package arrived I was stunned to see the best quality and the extensions felt as if they were real. I tried both of them and none looked like fake hair extensions.
They complimented my skin tone perfectly and gave me a natural look. The best part was that I can make a bun with them by wrapping the hair around, can braid them, and can also make high and low ponytails. It took only a few seconds to style my hair and saved my trip without any issues.
So, here is a perfect guide where you can learn everything about Java Buns ponytail hair extensions. You can learn to create multiple hairstyles, you can see which color will boost your confidence and will be best for you. You can get a list of different hairstyles you can make, you can learn if you have short, thin, long, medium, thick, or even rough or dry hair, how you can easily use these ponytail hair extensions.
As these do not need your hair to be perfect, you can attach this claw clip ponytail to any type of hair and slay your events with the perfect look within seconds. If you are a beginner or expert, you can wear these with ease. So, let's get into the guide and learn how to use these ponytail hair extensions.
How to Make the Perfect PonyTail for Beginners Using a Claw Clip Ponytail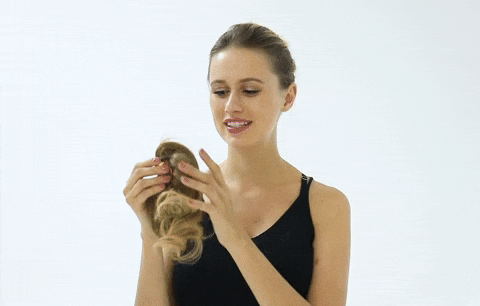 This guide is the only thing you will need if you want to make a simple, easy, and cute ponytail. In this section, you can learn how to use these amazing real hair ponytail extensions if you have short hair length. Even if you have medium hair length or long hair length, you can use these hair extensions and this is what you will learn in this part.
This is a lazy ponytail for all our lazy fellows who do not want to go through the hassle of making a perfect ponytail. So, let's see how you can use the claw clip ponytail extension to get the perfect ponytail without letting others know that you are wearing a ponytail hair extension.
How to Do a Ponytail with Short Hair
Using ponytail extensions for short hair is very easy. But, if you are not sure then here is how you can get a perfect look step by step. Just like me if you got a bob cut then simply tie your bob in a small ponytail or bun and clip in a ponytail extension. This ponytail extension is also perfect for people with thin hair as the claw clip easily clasps on short and thin hair.
So, gather up all your hair and clip in these comfortable and easy ponytail hair extensions and enjoy the look. These ponytails are perfect for an everyday look and you can alternate between short bob cut and a long ponytail and confuse your friends and have all the fun even on a bad hair day!
Learn more: Different Styles for Ponytails
How to Make a Ponytail with Medium Hair
The process for making a ponytail with medium hair is similar to the procedure for short hair. You need to have a hair ponytail extension, a brush, some pins for the fray ends, and a scrunchie for your own hair. First, brush your hair to remove all the tangles and knots. Then tie it in a simple ponytail or you can make a bun.
Then if you want you can use gel or pins for your short hair and set them so you have the perfect and sleek look. Then perform the easiest and simple step, use your claw clip ponytail extension. Just open the claws of the claw clip ponytail hair extension and simply attach it to the ponytail or bun you made previously.
Adjust the ponytail and you are good to go. You can also take out some strands for face-framing when you are making the bun or ponytail. Wear it for the whole day as it won't come off unless you unclip the claws and take it out yourself. Let's see how long hair people can manage this ponytail extension.
Learn more: Top Ponytail Hairstyles
PonyTail for Long Hair
So a long ponytail extension human hair, how to attach it to your real hair, what looks you can get, and much more. All these questions and difficulties are answered here. So, if you have long hair, you can still use these amazing ponytail hair extensions. To use these, you have to first get some things like a ponytail, comb, and of course these fake ponytail hair extensions.
Tie your original hair in a ponytail or bun. You can gather all of your hair or you can leave some in the front like bangs or fringes then tie a ponytail by first brushing out all the tangles. Then take the claw clip ponytail hair extension and attach it to your original ponytail. You can also straighten these ponytails and let them stay in a curly way or can style them however you like. Using these is very easy and you can get all the glam in seconds.
Learn more: Tips on Caring for Long Hair Extensions
Ponytails for All Hair Types
This is the best ponytail extension for thin hair, so you do not have to worry if you have thin or frizzy hair. JuvaBun guarantees that all of their ponytail hair extensions are designed to fit all hair types. Let me inform you how.
In this segment, we are able to see distinct hair kinds and the way you may effortlessly put on the Ponytail hair extension on them. If you've got wavy hair, dry hair, silky hair, thin hair, thick hair, or any sort of hair you may put on this ideal claw clip Ponytail on top of that hair and might slay in any dress you love.
It is likewise ideal for broken hair due to the fact this product does not damage your hair and additionally allows you with maintaining your hair while keeping you away from the heating tools.
For Wavy Hair
If you have wavy hair then getting a claw clip ponytail extension is no problem for you. Through this, you can get a cute ponytail without caring about the frizz or any other issue. This ponytail hair extension is very versatile and it is the perfect ponytail for all types of hair.
So, if you have wavy hair just shower simply using shampoo then condition your hair properly. Let your hair air dry or you can use a hairdryer and dry them fast. Then simply brush your hair, tie them in a ponytail, and clip on the fake hair ponytail extension and you will have the perfect look in seconds.
You do not have to straighten or set your hair properly to achieve the perfect ponytail as this tool will do it for you. Get professional and sleek-styled ponytails in seconds without worrying about the texture of your hair as this hair extension will match it perfectly.
Know the tips for taking care of wavy hair
For Straight Hair
For people with straight hair, wearing this ponytail hair extension is really simple. People who have silky straight hair, usually ask; whether the claw clip will stay in or not? Well, this claw clip is designed to stay in your hair for the longest time.
If you have thin straight hair then of course you will have to first make a small bun or a thin ponytail and then attach the claw clip ponytail hair extension on it and you will have your perfect ponytail. But, if you have thick voluminous straight hair then definitely a bun will not work as it will make the upper side of your hair from where the ponytail is starting, really thick.
Then for such a hair type, simply make a ponytail and attach the claw clip ponytail hair extension and you will have the perfect ponytail in seconds. You can make high and low, ponytails with ease through these amazing hair extensions.
Know how to keep your hair straight overnight
For Curly Hair
Curly hair ponytail extensions are perfect for people who have curly hair or short hair. Even people with medium and long hair and even straight hair can also use these curly ponytail extension human hair copies. Even if you have black, blue, or any color, you can get these as there are curly ponytail extensions for black hair, ombre hair, silver-gray hair, and much more.
These natural curly ponytail extensions just require a few steps to make a perfect ponytail for curly-haired people. Just gather all your hair styling tools and then sit in front of a mirror. Take all your curly hair and make a bun at the back of your hair. Then attach the Juva Buns curly hair ponytail and get the perfect look in seconds.
Even if you have long curly hair, you can make a ponytail and then attach the curly ponytail extension and enjoy it with ease. There is a straight ponytail hair extension as well but you can also use tools on these extensions without much issue. Anyway, let's see how the people with dry hair handle this situation.
Caring for curly hair will be easy if you follow this simple steps
For Dry Hair
How to make a ponytail for hair that is really dry and brittle. First of all, apply some stay-in conditioner to them and if needed, get a short bob cut. You can simply make a ponytail and go with the flow or you can cut off the excess and damaged hair and then get a bob cut for your healthy hair to stay in place. But how can you make a smooth and silky ponytail when you have dry hair?
Simply, put a leave-in conditioner then take all of your hair and tie your hair in a bun or ponytail. But make sure the ponytail is in the position where you want it to be. Simply make the ponytail and then attach the face ponytail extension and you can now easily roam here and these.
Dry hair just lacks moisture but they are not dead so you can easily prepare a moisturizing treatment for your hair and get perfect looking hair that feels extremely fun and amazing to the touch.
Worried because of dry hair? These are tips to fix dry hair
For Silky Hair
Silky hair is usually unmanageable as it is very smooth, soft, straight, and sometimes very slippery. So to avoid your hair from getting open or you losing your hairstyle, you need to step up your game. This claw clip ponytail hair extension lets you enjoy all the privileges in the world.
First to get the perfect ponytail, follow the steps as told you before, make a ponytail and attach the JuvaBun's claw clip ponytail hair extension that looks and feels like silver hair color. This hair extension can be your go-to hair styling tool and this extension also helps with silky hair.
The reason is simple, these ponytail hair extensions have claw clips that clip in all types of hair whether it is your simple silky hair or voluminous hair, it fits them all without any issues and gives you the perfect, silky, shiny, and smooth every time.
Properly care for hair to make it silky, shiny, and smooth!
Claw Clip Ponytail Hair Piece by Event
You might be pondering that claw clip ponytail extension hairpiece is for diverse hair types but where can we wear it right? Like what occasions can we cover by just utilizing this amazing hairpiece and will not look odd within the place?
Well, here are a few occasion ideas that I believe are where this hairpiece will work. I have worn this astounding Ponytail in all these places and no one ever came up to me to inquire that this is a fake ponytail you are wearing or it is not typically suitable for this occasion or place. I have never gotten such comments, in spite of the fact that my companions and other colleagues have complimented the ponytail saying wow your hair has ended up so beautiful and how you can color your hair strands on a regular premise and never get delicate, damaged, or dull hair.
At that point, I told them that I have not colored my hair strands but it is the different color that I have gotten for my hair ponytail extensions and my hair is its normal self with the perfect texture and safe from damage but the astonishing look I get is from this astounding claw clip ponytail extension that I am as of now wearing. So, without hold up, let's see how you'll be able to wear this astounding ponytail on multiple occasions.
Office Meeting
How to do the idealized Ponytail for your office assembly could be an address that I get inquired about multiple times. The reply is basic, if you're not a proficient hairstylist otherwise you cannot make a culminating Ponytail and need to spare time at that point get yourself some hairstyle advice.
This additional expansion to your hair will make you look formal and satisfactory for the assembly. With the typical Ponytails that we make there's an issue, amid back-to-back gatherings, particularly when we are focusing overwork, they tend to induce freedom and make us seem unpresentable. There are strands going in all distinctive sides and the muddled look isn't a chaotic look any longer but a total fiasco. But if we utilize the astonishing JuvaBun's Ponytail hairpiece at that point we are going to unquestionably get the advanced see that we are going for.
I utilized it for my three back to back four hours long gatherings and figured what? Not indeed a single hair cleared out my bun or got within the way of my assembly. This Ponytail hairpiece totally secures the hair in a bun that's classy and gives you a proficient see in seconds, making it idealized for an office assembly that you can only wear on a suit.
Wedding
At weddings, they have a thing with Ponytails. Weddings have a signature look that needs the ponytails and buns whether you make a moo bun, a beat bun, a bun with braids or any sort of bun, or a high ponytail, low ponytail, midway ponytail, and ponytail with braids. The right hairstyle is important in weddings!
For this, you might continuously have a ponytail with you by the end of the wedding day. It could be an exceptionally well-known hair fashion for brides, bridesmaids, and even for distinctive visitors. I had gone to a wedding on a shoreline. I made a Ponytail with the way I know and chose to take off the hat for the wedding setting on the shoreline but as long as I cleared out my room and ventured outside the patio, my hair opened and I was out with a fiasco.
So, how to do a great Pony tail that can remain for the full evening with the dust and everything that comes with a sea area wedding and one more thing, I was running late for the wedding as well. That's when I recalled my Ponytail hairpiece. I rapidly scrounged through my stuff and got it out.
Put some dry shampoo before combing my hair back, took out a few strands to frame my face, and after that included the claw clip ponytail extension hairpiece at the back of my head. After that I was ready for the wedding in such a short time.
University
Do you need to know how I utilized this astounding Pony tail hair piece for college? Well, for my college fellas here, they won't have to be stressed getting late for lessons because there are charming Pony tail instructional exercises that they can wear on a daily basis.
You'll be able to wear it along with your normal college dress such as jeans and best, a dress, a dungaree otherwise you can also wear this showstopper with a few sweatpants if that's what you prefer to wear to the college. You'll be able to effortlessly wake up within the morning at that point do your morning routine. Even if you're late for your course you'll make this Pony tail in your car or while strolling to the campus.
The steps are straightforward, fair, assemble all of your hair and tie them up in a bun. You'll make a pigtail, to begin with, and after that a bun, otherwise you can specifically make a bun and after that secure it with the Pony tail hair piece.
Your hair will remain the same for the complete day and you'll have the culmination see all through the day without your hair getting you into inconvenience or exasperating your ponder sessions. You can use the ponytail braid extensions, get braids for your university or college and get a complete hairstyle in seconds.
At Home
A lazy ponytail hairstyle at home rings a beautiful bell in our ears. But we can never achieve it in seconds as combing through our hair and getting all the strands smoothly and equally takes time and effort in the ponytail hair styling. So what can be the possible solution and that too without damaging the hair with hot tools and getting the perfect volume in seconds?
To save you from all this hassle, JuvaBun has their ponytail extension curly hair version. This claw clip ponytail hair extension is already curled and you will not have to use a curler every time when the guests are arriving, saving your hair from extra damage. If you are sleeping and wake up with messy bed hair at home, simply brush them, tie in a ponytail and attach the claw clip ponytail hair extension and you will have the perfect lazy hairstyle ready in seconds.
The curls in the ponytail add volume to it and you can get it in any color you love. It is one of the easiest and simplest hairstyles on the list.
Outdoor Trips
Camping, hunting, and even fishing trips are amazing and they call for classy and cliché hairstyles. These hairstyles might include a high ponytail extension as it is the main star for these hairstyles. You need to tie all of your hair during these activities so that you save yourself from the hassle of your hair coming in your way to achieving a perfect outdoor hair.
The best thing is to gather all your hair and then simply tie them in a ponytail. This way wind, sweat or anything will not affect your hair and will give you a perfect hairstyle. The ponytail will stay in place without becoming loose or allowing the strands to escape the hair elastic just by sweating or moving around.
You can easily play any outdoor activity without the fear of your hair getting in the way for your win. It also provides volume to your original hair and increases your confidence to the maximum. So, just win some games and enjoy your trip to the jungle or the sea.
Party
Ponytail extension wrap-around and long braided ponytail extensions are a perfect accessory when you are going to a party. The former one gives you a bun-style look while the latter one perfects a braided ponytail.
This is the hack for lazy people who want to get ready in seconds and that too effortlessly. If you are going to a party, make a simple ponytail with all of your hair in it and then use the ponytail extension wrap to make a bun or you can simply braid and get a long braided ponytail extension which will give you a fuller, thicker and smooth ponytail.
This will stay with you for the whole day and you will not have to worry about it coming undone. You can also make a bubble bun with voluminous hair; the options are endless, pick wisely and enjoy your night to the fullest.
Club Night
Club nights call for great high ponytails or braided ponytails but how can you get a fuller braid when you have the problem of thin hair?
That is where the braid ponytail extensions come in handy. To make one you simply have to make a high ponytail with your original hair and then attach the claw clip ponytail extension on top of it. This Juva Buns hair extension will help with the volume and will also provide you with the perfect and smooth ponytail hair style.
Now, are you still worried? I guess not. Simply, tie a braid using the hair from both the original ponytail and claw clip ponytail and get a thick and flawless braid, you can also leave it at the high ponytail and raid the nightclub in this hairstyle while having unlimited fun.
Bridal Shower
Bridal showers are semi-formal events where deciding on a hairstyle is the most difficult part. But a subtle but classy look will never hurt someone, right? We are here to help you If you are looking for a bridal shower hairstyle.
Simply, take out a few face-framing strands and then spray some dry shampoo under the hair that is present on the crown of your head. Then tease the hair a bit to make a puff on the upper side. This will give height and volume to your hairstyle. Then make a low ponytail just above the nape of your neck.
Then attach the claw clip ponytail and curl the hair ends if you are using a straight ponytail. Then simply curl the face-framing strands and take a single hair strand and wrap it around the hair tie to hide it. Here, you have your perfect bridesmaid bridal shower hairstyle. You can glam it up with a tiara or some flowers or pearls to go perfectly with it.
Date Night
Date night is all about having a subtle but glamorous look so your partner knows you have put in effort but are not too extra. But the question is; how to achieve this look? Well, all you have to do is make a ponytail. The ponytails are perfect for your date night. With the right application, these extensions can give you a casual hairstyle vibe and also a formal vibe.
This helps with the situation where you are not fully casual or formal. If you make a simple ponytail, it will get loose in seconds or a few hours making you look unpresentable in front of your date. To prevent such a thing from happening and becoming the worst date ever, simply take this cool claw clip ponytail extension and secure your ponytail for the whole night.
Just make your regular ponytail and add in the fake ponytail hair extension. You can also add accessories to it to make it look like a date night hairstyle. Then wear a beautiful dress that fits in all the right places, spray some perfume and become the perfect date for date night and impress everyone around you.
Claw Clip Ponytail Piece by Style
There are unlimited claw clip ponytail extension hair styles and these are very easy to make. Sometimes you just need a single ponytail hair extension and sometimes you will need double but this will totally depend on the hair style and nothing else.
The options are versatile and you can get the hair styles in seconds. There are double braids, double messy ponytails, ponytails with bangs, half way up ponytails, low or high ponytails and the hair styles you can make are unlimited.
To guide you; here are a few hair styles that you can easily make and enjoy at any event. So, let's see how you can make these few amazing hairstyles from the unlimited list and enjoy them for different occasions.
PonyTail with Bangs
A ponytail with bangs is sometimes difficult to make as the bangs interfere with the smooth look that you might get from the ponytail so how to make a ponytail with bangs and get a smooth look with a fuller ponytail?
Well, your answer is these cool claw clip ponytail extensions, they are perfect if you want a fuller look while you have bangs at the front and thin hair at the back. First set your bangs properly then tie a ponytail at the back. If you want a high ponytail then tie a ponytail at the top, if you want a ponytail at the mid of your head then tie the ponytail there and if you want a low ponytail with the bangs then tie one above the nape of your neck.
Then the next step is simple, you just have to open the claws of the claw clip and then clip in the claw clip ponytail extension and you will be good with your amazing hair style. This way, your ponytail will stay for longer periods and you can easily control your hair. It will save you time and will provide you with the perfect hairstyle in no time.
High PonyTail
High ponytails are the fashion these days. Whether you wear a suit or even a dress, just make a high ponytail and you will be ready to rock the event. It is perfect for casual runs to the grocery and you can even wear this hair style at home on a regular basis.
Then this hairstyle is also perfect for formal events if made properly and paired up with the perfect suit. If you have a black suit with a white inner then this is the perfect hairstyle you should go for. It is perfect for an evening outing and you can also pair it up with some jeans and shirts for wine testing and outings to a campsite with friends or family.
You just have to make a high ponytail and then you have to clip in the fake ponytail extension and you are ready to conquer any event. You will get your desired volume through it and if you have dry ends or a dull ponytail, it will be totally transformed to give you your confidence back.
Half Up Ponytail
Half updos are perfect hairstyles when it comes to the midsummer season. In this season the weather is sometimes chilly and sometimes hot so a low ponytail or a high ponytail and even mid-length ponytail will not work. So, what is the solution?
Well, you can easily put in some effort and make amazing half up hairstyles. To make this hairstyle you need to first brush your hair properly and then divide it into two halves crown-wise. Then take the upper part and brush it properly and gather all the hair. Put the upper half in a bun or you can also put it in a ponytail and then clasp your claw clip ponytail extension on top of it and your hair is ready.
This hairstyle is perfect for midsummer outings and you can also pair it up with some pearl earrings and a knee length frock and be ready for a picnic outside in the garden or a park. It is also perfect for a casual outfit with some jeans and button down shirt paired up with classy earrings and a few rings. You can pair this hairstyle with any accessory and dress and you will still have the perfect look for the event.
Low Ponytail
Low ponytails are generally used for everyday looks and also for universities and formal events. These are not really flashy but still, make you look presentable and cool at the same time. By using the claw clip ponytail hair extension, you can change the whole game of the look that you are going to wear.
To make a fuller low ponytail you will definitely need the JuvaBun's ponytail extension. To use it, you have to first make a low ponytail or bun. Basically, you have to create it at the base of your head and near the nape of your neck. Then take your claw clip ponytail extension and claw it on the band of the ponytail that you have created. You can also make a bun at the same position but it is better to make a ponytail and then attach the claw clip ponytail hair extension.
Then you are good to go, you can wear this hairstyle with a dress, maxi, dungaree, trouser-shirt and you can also slay in a jumpsuit with it. It will give you a subtle and cute look that you will definitely love.
Side Ponytail
Side ponytails can be converted into side braids and even into side fluffy buns but do that you need a fuller side ponytail. If you are a bride-to-be or even a bridesmaid who loves side hairstyles, this is the perfect ponytail extension for you. There are times when during the event side ponytails either become extra frizzy or become loose, so what to do?
If you use heat tools to curl and then spray to set, your hair can become really damaged and dull really fast. Your perfect solution is the JuvaBun's claw clip ponytail extension. To make a cool and fluffy and at the same time fuller ponytail, you just need a hair ponytail extension that looks like real hair. Take some strands out from the front of the face and give them a wave or a curl. Then take the rest of the hair and tie them in a side ponytail, just behind the hair.
Then take the JuvaBun's claw clip ponytail hair extension and attach it to that ponytail and set properly. It will fit perfectly and the hair will cascade down from behind the ear and to your shoulders depending on the length you have selected. This way you do not have to worry about the event and you will have perfect hair style in seconds and throughout the event.
Two Braided Ponytails
Do you know; how you can make two braided ponytails and that too in the shortest time with the full volume? Use two claw clip ponytail extensions. These are great for on the go hairstyles and provide you with your desired volume. They feel like real hair and are perfect for everyday use as these can be washed and dried at the same time.
To make your two braided ponytails for let's say beach or a casual outing, all you have to do is own a brush, four hair elastics and two claw clip ponytail hair extension pieces. Now, you are ready to make these cute two-braided ponytails. To make these, you just have to divide your hair into two portions and by using the hair elastic, you will make two ponytails. Oh yes! Don't forget to brush your hair first then proceed to other steps.
Then attach the claw clip ponytail hair extension to the pre-made ponytails and then start braiding them. Once your braids are complete on both sides simply secure them with the other two hair elastics and you are good to go. You can also use scrunchie if you want to have the cute elastics than the local and simple ones.
Middle Back Ponytail
Middle back ponytails are the common ponytails that you make at the back of your head. These ponytails are basically located at the center of your head and on the backside of it. But if you make a simple middle ponytail, it will definitely become loose over time and that is what we want to avoid. So, what should we do?
Well, the answer is something you already know! Yes! You got me right; it is the great claw clip ponytail hair extension by JuvaBun's. To use this effectively, you have to make your normal ponytail. Just gather all the hair in the middle of the head, on the backside, and tie it in a ponytail.
Then take your hair extension and claw the claw clip ponytail on top of the regular ponytail and you will have a fit, tight and perfect middle back ponytail. This ponytail will not move from its place till you want it to. So, make it and enjoy your workouts and more.
Two Messy Hair Ponytails
Two messy hair ponytails always take up all the hair and divide it, which in return gives really flat and thin ponytails but that is something that we do not want and this is the place where the JuvaBun's claw clip ponytail hair extensions come into action.
The claw clips of these hair extensions are small but have a grip that will not move till you open the claws of the claw clips. So these are perfect for two messy hair ponytails as they will give you the volume you desire with a push to your real ponytail so that it is not flat. First, brush your hair and then divide it into two portions. Make sure the portions you make are equal and divided in lengthwise positions.
Then tie both sides with thin hair elastics and into ponytails. This hairstyle also works with short, medium, and even long hair. Then after making the ponytails on both sides, simply claw in the claw clip ponytail hair extensions and you will have your cute look for your date.
Braided Ponytails
There are times when you are running late and look for a hairstyle that is perfect and can be made in seconds. This is the hairstyle that you will want at that time. Braids are the best friends of the girls. These are perfect for any occasion and you can also transform them into a bun. Making a braided ponytail is a really easy task.
First, brush your hair properly and then tie them in a ponytail. Or you can also tie a bun. Then on that bun or ponytail just clamp the claws of the claw clip ponytail extension and you will have the perfect ponytail. Then the next step is to braid that ponytail. You can make a fish braid or a normal braid, the choice is yours.
Then close the braid with a fancy pony or you can use a scrunchie. Puff out the braid a bit and take out strands from the front and you are good to go.
Claw Clip Ponytail Pieces by Color
Everyone can get ponytail extension human hair as these claw clip ponytails are for everyone. These claw clip ponytail extensions are one of the best ponytail extensions available. These are present in multiple styles and hair colors.
If you buy Juvabun's human hair ponytail extension then you will definitely get the shade you are looking for as these ponytails are present in all the shades and even come with highlights. They are suitable for any face shape, age, personality, complexion, undertones, and more. If you are going to a party, formal event, casual event, or any other place, you can get your hairstyle in seconds with this product.
So, in this section, we are discussing different colors of these natural ponytail extensions so you can see which one is best for you and if you can get one to give your friends or not.
1. Black Ponytail Extension
Black is ideally suited for light complexion individuals that have cool hints and this color likewise goes best with individuals that have medium skin with neutral undertones. This color is additionally ideal for individuals having olive skin with warm underlinings and individuals who have deep skin with cool undertones. This color typically goes with strong and friendly character individuals and anybody can have it, assuming that they love this color.
Then, at that point, assuming you have a squared shape face or an oval face shape, you can get this hair color as it will suit you best. Nonetheless, on the off chance that you love changing your hair colors and have round or heart-formed faces then, at that point, simply sit back and relax, you can in any case accomplish an ideal look and get your best hair shade with these fake ponytail extensions but the best ponytail extension for black hair.
2. Pure Platinum Blonde Ponytail Extension
Pure Blonde color goes with almost every skin tone; it is a beautiful color that shines very brightly in the sun. It is generally perfect for people who have fair skin color with cool undertones. Youngsters who have to go to different events such as parties, prom, and more can take advantage of this claw clip blonde ponytail extension as they can easily get a perfect hairstyle in seconds.
You can wear it with a plain solid color dress or suit and can easily slay the look like a real boss. If you have naturally blonde hair color then you will not have to worry about the color of this hair extension ponytail matching with your real hair as the hair color is perfectly matched. So, if you want to slay any event with a blonde hair ponytail extension then all you need is this hair extension ponytail and enjoy the look in seconds.
3. Medium Blonde Ponytail Extension
The blonde hair offers the vibe of a carefree and comfortable character. It is the right hair shade for human beings who have fair skin hues which have cool undertones and it's also appropriate for human beings who have fair skin and neutral undertones.
So, in case you are a person who has this skin shade and those undertones then you could get this excellent hair color and the blonde ponytail extension human hair piece. This hair color is ideal for human beings who have spherical face shape, rectangle face shape, or oval face shape. It complements the features of their face and if cut properly and the Pony tail hair fashion is made flawlessly then it can beautify the face shape and high points.
Hair colorations make a contribution to the character of the wearer and this color shows the earthy, ambitious, and younger appearance. This color is ideal for girls who are in their mid-twenties and past due thirties. This hair color will offer them a younger appearance and might be the right color for their personalities.
4. Light Blonde Ponytail Extension
Light or Honey Blonde hair color is the perfect color for anyone. If you have deep skin with cool undertones, you can get it. If you have fair or deep skin with cool undertones then you can easily slay any hairstyle in this honey blonde color.
It also suits pale skin and you can get a balayage to make this shade more vibrant. This hair shade helps with bringing out your confidence and a sharp personality. If you are young or in your mid to late twenties, you can easily get one of these done and boost your personality. It is a perfect hair color for square and oval face shapes. It also compliments a sharp jawline and enhances the natural skin tone of individuals wearing it.
Even older people can dye their hair in this color and get a youthful look within seconds. The Juvabun's light blonde ponytail extension is the perfect addition to your wardrobe if you want to experiment with your hair and get an all model look.
Ombre Ponytail Extension
Ombre hair shade never gets out of fashion. It is a hair shade that everyone loves. Ombre is not available in a single tone but it has dual tones which bring out the perfect face shape of the one wearing it. It is a complete game-changer with its cool and warm tones that compliments both dark skin tones with cool or warm undertones and fair skin tones with cool or warm undertones.
You just have to select the color of the ombre and you will have the perfect hair that boosts your confidence and is fit for a queen. Ombre is the perfect shade when you cannot decide on a single color and also when you want highlights in your base color.
If you have a round face or a squared face and even an oval face shape, you can easily get the ponytail extension in this hair color and slay the look. You can enhance your personality and can confidently walk anywhere you like.
5. Red Hair Ponytail Extension
Red hair fades to a ginger shade and is generally called copper, ginger, or red hair color. This hair shade is for the people who have fire in them. This means that the people who are confident, romantic, fiery, mysterious and get what they want to type. It is for people who are unique and getting a perfect red shade that is vibrant and perfect is not a walk in a garden.
JuvaBun has the perfect shade of red which matches with natural red hair and even with the dyed one and shows no difference. It is easy to wear and people with fair skin shades and cool undertones can slay in this color quite perfectly. Even if you have warm undertones with fair skin, you can still get this shade with ease as it will go with your personality and skin tone. The red hair shade is for people who have heart shaped faces, oval shaped faces or even squared shaped faces.
All types of people with such features can get their perfect hair in no time. There is no age limit when it comes to wearing a red claw clip ponytail extension as this color is quite suitable for all. You can even buy one if you are a teenager and get a fuller, longer, and smooth ponytail. It will bring out your confidence and will help you to show what you are capable of.
6. Dark Brown Ponytail Extension
Brown ponytail extensions come in two different shades, JuvaBun provides you with dark brown ponytail extension and light brown ponytail extension. Yes! These are definitely for two different people. Well, dark brown is the shade of mysterious and introverted individuals. It brings out your cool personality and gives you the perfect shade.
It is also a perfect color for various face shapes such as round, oval, heart, diamond, and even square shapes people can get this shade as it will perfectly contour their face shape. The dark brown hair brings out a youthful look in adults and makes you look many years younger than your real age. This is also perfect for females who are in their late twenties or early thirties. This color brings out confidence, power, and elegant character and is the perfect color for every hair type.
7. Light Brown Ponytail Extension
Light brown is also a shade that lies under the brown ponytail extensions. This shade presents the majority of the people and is perfect for adults, teenagers, and even youngsters in their thirties or twenties. If you have a medium skin shade or any color that has cool undertones then you can definitely get this color. It will enhance your naturally beautiful color and face.
If you have any face shape and mainly heart face shape, round face shape, or square face shape then this shade will look best on you. You should definitely get light brown colored ponytail hair extensions. Even if you have black hair you can get this ponytail hair extension and slay your look in two shades and it won't even show and will easily blend in with your original hair color.
Using a light brown ponytail is very easy as you just have to make a ponytail to hide your original hair color under the claw clip ponytail extension and you will be good to go. So, get this as the description fits you and enjoy dressing up to the fullest.
8. Light Gray Ponytail Extension
The light gray or silver gray color is as a rule found on the ladies who are in their late forties or fifties and indeed youthful women are moreover selecting this hair shade. This hair color is exceptionally common among females and is one of the foremost requested and prevalent hair shades.
This light-gray color goes impeccably with a medium skin color that has cool undertones. It is best for individuals who have a circular formed face, rectangle molded face shapes, or a face that features a diamond shape. More often than not, there's no interface between identity and hair color but some of the time the hair color characterizes the development level of the individual and their few astounding qualities.
Silver-gray hair is the modern hair color presently and a great portion of youthful ladies are getting this shade done. Gray hair is the portion of the maturing process and getting it without being old and done professionally shows off the self-expression that ladies have for themselves. It appears their certainty, control, and self-love together with their brassy and striking identity is shown on the front with a hint of the superwoman that they are.
So, in the event that you have got such an identity and need to improve your looks and need to create your highlights and identity more conspicuous through your hair shade at that point you must get this one.
Pairing the Claw Clip Ponytail Piece with Accessories to Achieve the Perfect Look
To achieve any type of look you need to have some accessories in your hair. A simple ponytail also works but an upgrade does not hurt anyone. You can transform a simple ponytail into a fabulous ponytail in seconds.
All you need is some hair accessories and you will have your perfect look for any event you want. For a party, you can have sparkly hair accessories, for weddings or office meetings you can always go for solid gold or silver-colored cuffs which provide a stylish yet confident look.
The options are endless when it comes to transforming your simple and a bit boring hair into something amazing and stylish. So, let's see how you can utilize these amazing hair accessories for the perfect look.
1. Ponytail Cuffs or Cuff Bracelets
The first in line is the ponytail cuffs or cuff bracelet. These are usually in solid form but some are in string forms as well, which gives just an outline of the cuff. These are very elegant and classy. If you add the cuffs to your ponytail, it gives a really professional and formal look.
This simple accessory is very easy to use and if you have metallic cuff bracelets then you do not need to buy these ponytail cuffs at all. Wear these with a suit and straight ponytail to your meetings or even to a nightclub and rock the night. Just make a ponytail or bun.
But first, remove the tangles from the hair then open the claws of the claw clip ponytail and clip in the ponytail extension. Take your metallic cuffs and place them on top of the ponytail band and you have your own stylish ponytail ready which is sleek, smooth, and perfect.
2. Scrunchie
Scrunchie is essential when it comes to ponytails. They are a perfect accessory for your hair as it is very comfortable, does not damage your hair, gives a classy and cool look and is just perfect. So, if you are looking for a chic and casual look then this is the hair accessory you will need.
Scrunchies are matte, silk, and more in color and texture. They are in velvet, silk, and more materials. If you have a leopard print cool dress or even if you have a summer dress simply use scrunchies with them. Make a simple bun or ponytail and then clip in the claw clip ponytail then if you are wearing a leopard print dress buy a matching scrunchie and wear it.
But if you are wearing a solid summer dress then put the scrunchie in matching colors, take a few strands out from the front, curl them and enjoy your perfect look with a day out with your friends or on an afternoon date.
3. Flowers and Tiara
Flowers are perfect for every occasion except for funerals of course. You can style these in an amazing way with your fluffy ponytail. If you are attending the wedding of your boss and want to look professional but at the same time ready for the wedding. Well, tiaras or flowers are to the rescue.
Just make your ponytail as you make it normally then tie the flowers on the pony tail band, you can also take flower buds and put them in a thread to make a flower string then attach it at the band of the ponytail and let the buds mix with the length of your hair. It gives an illusion of flower hair which is extremely cute and fun to wear.
You can also take a tiara and wear it simple on your head with the ponytail and you can also take the flower string and make a tiara out of it while holding the ponytail with the flower string.
4. Scarf
Scarfs can be used in many ways in these ponytails. You can take a scarf and tie it as a bandana for your hair. You can also make a braid with your hair in a ponytail. Then you can make a scarf braid and use it as a headband after making your ponytail.
You can also tie the scarf on the ponytail band. The options are endless and all these options are beautiful too. You can make this hair style with jeans and a shirt and can enjoy outdoor activities with a chic look. You can also tie a matching scarf on your jeans hook or wrist and get a gothic girl look.
This scarf will definitely give you good vibes and a unique look that you can achieve in seconds. The steps are easy again: tie a ponytail and attach the claw clip fake ponytail extension and then use your scarf and style it however you want. Then you are good to go on a camping, fishing or hunting trip!!
🛒Buy Headbands on the JuvaBun Store
JuvaBun has these boutique headbands that are great to wear in sports or daily fashion wear. You can now keep your hair neat and still be fashionable!
5. Sparkly Pins
Sparkly pins are an accessory that is kind of an embellishment that brings life to your hair style and even if attached with clothes they bring out their colors and style. If you want a unique but everyday girly look with attention to your hairstyle then these are what you should use.
To wear the sparkly pins you have to make a ponytail by gathering all of your hair in a sleek ponytail. Then wear the claw clip ponytail extension on top of the simple ponytail and then you have to just take your favorite sparkly pin and use it. To clip in the sparkly pin you have to decide where you want to fit it in. You can simply place the sparkly pin on top of your ponytail and on the back of your head or you can place it under the ponytail length and above the nape of your head.
Then you can also place it on the right or left side of hair behind your ear and then you can also place it directly in front of your head and on either side and have the perfect look and complete attention to your hair.
🛒Buy Bobby Pins on the JuvaBun Store
If you need pins to lock your hair down so that they will be kept in place, then these JuvaBun Bobby Pins can do the job. Secure your braids, updos, and more!
6. Scrunchie with Tail
Scrunchies with tails are usually made in silk. And silk is an accessory that every woman loves and is known to be a royal fabric. The process to gain the perfect ponytail with a cool silk scrunchie with a tail is simple. You have to first do the normal procedure and that is to make a simple ponytail.
You can leave your bangs or fringes out and then just make a ponytail. Clip ins are great because you can clip in the fake ponytail extension and then put on a scrunchie on it. Now you can take two to three more styles with this simple basic hairstyle. You can leave the scrunchie with a tail and let it be a simple hair style or you can make a bow from the tails and have a cute hairstyle.
You can also add in pearls at the end of the bow and get a cute glamorous hair style. You can also twist and tuck the tails inside the scrunchie and make it a puffed-up scrunchie. You can also use the two tails and your hair to tie a braid and transform it to a bun and enjoy all the styles within seconds and with ease.
7. Necklace or Earrings
A ponytail is the perfect hairstyle to adjust your earrings in. You can also use your necklaces or bracelets for this cool hack. These accessories are usually not made for the hair but you can definitely use them if you want. The simplest way is to first apply some hair gel on the front of your hair so that all the baby hair is combed back.
Then tie your hair in a ponytail and take your claw clip ponytail hair extension and clip it on. After doing so, simply take your long necklace and round it on the band area of the ponytail, you can do the same for the bracelets and you will have a fancy ponytail band. You can also take tops and put them in the band area and can get pearls type hair bands.
These are perfect for night events and you can pair this hairstyle up with a suit and attend a formal party as well. Use these however you like to achieve the perfect look and slay all day.
8. Fancy Hair Combs
Fancy hair combs are perfect for buns but don't forget how the Chinese style them. The classy way for hair combs is to have the pretty pearls and stones on them and then you get a back crown type of thing.
So if you are making a ponytail hairstyle you can always adjust these combs and attach them on top of your band. This will give you a crown type look and will be best for any occasion such as date night, a themed party, prom, wedding and more. It is fancy, classy and a perfect accessory if you are wearing a ponytail hair style.
9. Pearls and Diamonds
Pearls and diamonds are the best friends of girls and attaching them to your ponytail will definitely give you the perfect look. If you want to achieve a glamorous look then you can get pearls and diamonds.
Just glue some pearls or diamonds on your hair and you will be good to go. Make your simple ponytail and attach the Juvabun's claw clip ponytail on top of it. Take your lash glue and glue the pearls on the length of your hair or you can also make a rhinestone band instead of the normal ponytail band.
To do this take a strand of hair and wrap it around your original ponytail band and then simply by using lash glue paste pearls or rhinestones on top of this hair and you will have the perfect chic and glam look in seconds. You can wear this style to the club or for a party and even for your date night.
Sunglasses
If you are going for an outdoor shoot or want a more casual look then this is the accessory that you would want with your ponytails. You can effortlessly look cool as all you have to do is wear your sunglasses on your eyes or on your head. Wear some jeans, a t-shirt and pair it up with a jeans jacket.
Then make a ponytail by taking all your hair in it and if required use gel to tame the front baby hair. Then attach the claw clip ponytail on it and take a strand of hair and twist it around the place where the band should be. Place golden or silver-framed sunglasses on top of your head and wear pearl earrings then you have the perfect cool look in seconds. Enjoy all the compliments that you can get.
Well, here I end our amazing guide for the claw clip ponytail hair extension hairpiece. I believe, now you know how amazing you can use this hair ponytail piece and how versatile this product is. No matter what your hair texture is, what your hair color is, if you have short hair or long hair, these all are the worries of the past as now you can get the perfect hair style in seconds with the help of the JuvaBun claw clip ponytail hair extension.
You can add your favorite accessories to the ponytail. You can get a gothic look, a ponytail, or long braid like princess jasmine or you can just slay with your leather jacket, a voluminous straight, and a sleek ponytail and get your favorite biker girl classic look. If you want a simple way out than visiting your hairdressers or different salons then this is your signal.
This claw clip ponytail is all you need as you can make braids with it, you can make a full big bun, you can simply keep it as a ponytail, and you can curl or straighten it. 
Get Your Hands on The Claw Clips Now! 
There are a ton of things that a woman needs to invest in and ponytail extensions is one of them. You can wash these ponytails and use them again and again, the colors match perfectly and these are amazing for everyday wear as they do not come off unless you want to remove them.
So, it is the best alternative for your short or long, thin or voluminous, or any type of hair. The colors are natural and you can even match these with dyed hair. These claw clip ponytails are perfect for any hairstyle just buy these once and get your professionally made ponytails every day of the week.
Visit the JuvaBun website for more insights on hair extensions!
---